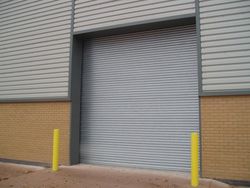 SOLID SLAT ROLLER SHUTTER DOORS
AVAILABLE IN SIZES FROM 2M X 2M to 10M X 10M,
BIGGER SIZES UPON REQUEST
ALPHA specialize in a range of doors ranging from but not limited to Roller Shutters,
Roller Doors, Security Doors, Grill Shutters and Fire Doors.
Our roller shutters are made from only the best materials which are sourced from only reputable suppliers and sources.
As a result, our roller shutters are of the highest quality and are supplied and fitted by our fully qualified staff.
The range we supply is ideal for commercial properties shops, offices, factories, schools, warehouses and more.
Our engineers design quality into our products.
The steel roller shutters are made to suit specific operating requirements and aesthetics.
Our design, manufacture and installation teams offer flexibility, born of experience on projects ranging from 12m x 10m steel roller shutters.
Curtain - Constructed using 77 x 0.7 mm / 77 x 1.0 mm / 77 x 1.2 or 77 x 1.5mm & 100 x 1.0mm / 100 x 1.2mm or
100 x 1.5mm interlocking slats in galvanised steel roll formed in house.
Slat thickness and pitch depending on Opening Width and Security requirements.
We make all our steel roller shutters to measure.
This ensures correct fit, and aids with quick and efficient on-site installation.
Details
Place of Origin: TAIWAN
Product Condition: New
FOB Price:
Minimum Order Quantity:
Supply Ability:

Packaging & Delivery
Packaging Detail:
Delivery Detail: