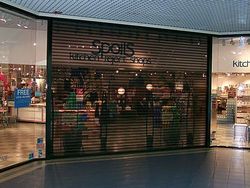 SHOP FRONT SHUTTER DOORS
ALPHA Doors economy rolling grilles offer security, high level visibility and ventilation.
Economy rolling grilles are an attractive alternative for your security needs and are also quiet and smooth in operation.
They are typically used for shop fronts, shopping malls, serving counters, bars, display units and product displays.
Description
POLYCARBONATE: Clear guard, Constructed from UV- stabilized polycarbonate sheets With
Stainless Steel /extruded Aluminum hinges & Tubes
PERFORATED Shutters offer the highest level of durability and security for doorways and windows.
Perforated See-through Shutter is another fabulous choice for shop front of time exhibition.
It is a similar counterpart of the Polycarbonate Shutter; However, Perforated See-though Shutter slat is shaped by roll former.
Therefore, with the same great visibility, aesthetic look, and durability,
its slat profile can be customized as desire.
Finishes - Galvanised steel Slats Powder Coating in standard available colours
We make all our steel roller shutters to measure.
This ensures correct fit, and aids with quick and efficient on-site installation
Details
Place of Origin: Taiwan
Product Condition: New
FOB Price:
Minimum Order Quantity:
Supply Ability:

Packaging & Delivery
Packaging Detail:
Delivery Detail: