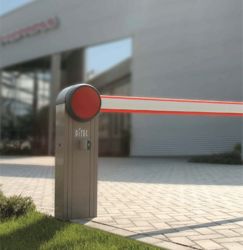 Car Parking Barriers/Traffic barriers
Automatic barriers – QIK
Truly innovative shapes and uncompromising safety:
these are the credentials of the new DITEC Qik barrier.

Soft edges, rounded corners, high performance and suitability for any type of installation environment.

Newly designed and technically advanced,
Qik is the ideal solution for a totally safe access control of medium to high transit environments
such as hotels, banks, shopping malls, as well as blocks of flats, companies and camp sites,
which always require access control of car parking areas,
to ensure their use to authorized people only.

The new Qik barriers are available in grey and red or in stainless steel,
the ideal solution for harsher environments such as areas near the sea.

The wide range of lengths and DITEC accessories available ensure that all installation
requirements are met.

An access system built with safety in mind

The Qik barriers, when matched to the LAN control systems, solve all access problems and are very easy to use.
To allow employees and key customers to operate the barrier,
a wide range of solutions are available: a remote control,
a traditional key or keypad operated selector switch, a LAN transponder system or an access system,
which allows the barrier to be operated only once.
This is a great solution for hotels, sport centers, shops and restaurants,
visited by users who need temporary, quick and simple access.
Details
Place of Origin: ITALY
Product Condition: New
FOB Price:
Minimum Order Quantity:
Supply Ability:

Packaging & Delivery
Packaging Detail:
Delivery Detail: