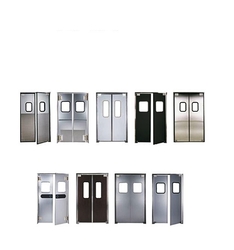 UNIFLOW'S SWING DOOR
Our SWING DOOR opens with a light touch of a finger and closes automatically in a safe and gentle motion.
· Act as visual and thermal separation, as well as sound abatement between retail space and backyard.
· Air-tight gaskets can be equipped to control temperature in refrigerated rooms. As well as prevent unwanted wind, dust and even sound.
· Variety of surface finishes is available to suit the interior of your store.
Our SWING DOORS are known for its durability and long product life, needing almost no maintenance. Made from environmentally friendly materials which can be recycled. Perfect for the environmentally conscious customers.
UNIFLOW'S SLIDING DOOR
Our SLIDING DOORS open with a light touch and close by itself slowly.
It is easy to open and close automatically, improving flow of people and work efficiency, as well as providing a smooth passage for elderly people and wheel chair users.
The SLIDING DOOR also has hold-open mechanism to keep it open when needed.
· User-friendly and space efficient.
· Perfect for use in healthcare facilities.
Details
Place of Origin: JAPAN
Product Condition: New
FOB Price:
Minimum Order Quantity:
Supply Ability:

Packaging & Delivery
Packaging Detail:
Delivery Detail: