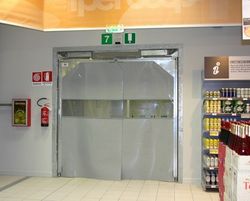 Flexible swing doors are particularly recommended for separating working areas in industrial and commercial sites.
Commonly used in food industry and supermarkets, these doors are suited to installation on emergency exits.
They are an economy and functional solution because they can be easily manufactured and mounted.
There are two available models: a version with manual opening and spring automatic closing and an automatic version with pneumatic and electro-pneumatic devices for automatic opening via touch or remote control
(for example button, tie-rod, radar, etc.).
Special solutions are mainly used for closing large passageways with peculiar features,
such as depots and rail and tram shops with aerial transmission lines.
Details
Place of Origin: Italy
Product Condition: New
FOB Price:
Minimum Order Quantity:
Supply Ability:

Packaging & Delivery
Packaging Detail:
Delivery Detail: