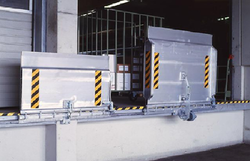 PROMStahl drawbridge levelers are suited for internal as well as for external docks and are used when small or medium differences in height between the dock edge and the vehicle bed have to be bridged.
ALUMINIUM DRAWBRIDGE LEVELLER
Aluminum drawbridge levelers are designed for bridging small or medium height differences.
- LATERALLY SLIDING ALUMINIUM DRAWBRIDGE LEVELLER
- MOBILE DOCK PLATE PHFB
- DRAWBRIDGE LEVELLER PSKB
- DRAWBRIDGE LEVELLER PSKBS
Loading Ramp
Loading ramp with swing lip leveler
Loading ramp with telescopic lip leveler
The combination of the PAT (PAS) loading ramp with a PT or PS stationary dock
Leveler is a new product offered by PROMStahl. It is a result of 15 years of experience
In dock leveler design and manufacturing. The loading ramp is a complete
Docking system which is installed as a self-supporting unit in front of the door
Opening so that the storage area of the building is extended.
DOCK BUMPER SUPPLIERS IN UAE
Bumper are designed to absorb impact during the docking process protecting both
The vehicle and the docking system. Their steel parts are hot-dip galvanized.
Details
Place of Origin: Germany
Product Condition: New
FOB Price:
Minimum Order Quantity:
Supply Ability:

Packaging & Delivery
Packaging Detail:

Delivery Detail: