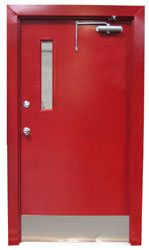 FIRE RATED STEEL DOORS & FRAMES
Steel Doors are design based on SDI and NFPA technological data in the interest of improving the safety for the public benefits.
Today as per the BOCA International standards, building safety is a demandable choice by the public, in case of fire accidents, Our fire rated Steel Doors are produced with the toughest UL and SDI standards to prevent any spread of smoke fire breakup.
FIRE PROTECTION:
Labeled fire rated Door tested in accordance with UL (or) Warringtonfire-mideast with rating as specified in the plans and door schedule. Fire door frames are to be manufactures by us in accordance with the approved procedures issued by UL (or) Warringtonfiremideast.
STEEL FRAME (Fire Rated)
GENERAL:
We provide frames in compliance with ANSI/SDI-100 requirements. We provide fire rated frames labeled and listed by UL (or ) Warringtonfire-mideast.
PRODUCT:
Frame Construction: Frames are constructed of 1.2mm (18 gauge) or 1.5mm (16 gauge) or 2mm (14 gauge) or 2.5mm (12 gauge) commercial quality cold rolled steel ASTM A366 or hot dip galvanized steel sheet ASTM A526, G90 for doors of either 45mm (13/4") or 35mm (13/8") thickness with the details conforming to SDI- 111A. All bends shall be formed with a true sharp radii.
Welded Frames:
Welded frames will be factory assembled, face welded and ground smooth. All welded frames will include the appropriate anchors to match the wall construction they are intended to be installed.
Knocked Down Frames:
All KD frames will include the appropriate anchors to match the wall construction, they are to be installed with appropriate reinforcement.
Architectural Entrances, Sidelites and Borrowed Lites:
WE provide all architectural entrances, sidelites and borrowedlites fabricated from 1.5mm(16gauge) cold rolled or hot dipped galvanized steel sheet. Construction, preparations and profiles to match masonry frames. All mullion sections to be closed. All joints and corners of the assembly shall be face welded and ground smooth. With steel channel glazing beads for all areas with glass. Field joints shall be permitted when the size of the total assembly exceeds shipping limitation.
STEEL DOOR (F/R)
GENERAL
We provide doors in compliance with ANSI/SDI-100 requirements. and fire rated doors labeled and listed by Underwriters Laboratories Inc. (or) warringtonfire mideast.
PRODUCT
Door Construction:
45mm (13/4") thick full flush construction with the details confirming to SDI-111A-EDGE considered. Manufactured from cold rolled steel sheets to ASTM A366 or from galvanized steel to ASTM A526. Available in nominal 1.2mm (18ga.) or 1.5mm (16ga.). Vertical edges are interlocked. 1.5mm (16ga.) deep end channels at top and bottom of door for lasting integrity. Hardware reinforcing in accordance to ANSI, SDI, NFPA standards requirements.
Tested according to UL10(B) and labelled up to 3 hours.
Available with wide range of glass light and louver preparations.Fire rated, Labeled: Available in sizes up to 4'x8' single and 8'x8' double. larger sizes are also available with oversize certification.
Details
Place of Origin: U.A.E
Product Condition: New
FOB Price:
Minimum Order Quantity:
Supply Ability:

Packaging & Delivery
Packaging Detail:
Delivery Detail: