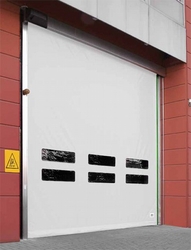 Ditec Sector Plus
Ditec Sector Plus is the perfect choice to maximize visibility:
it can be configured to meet any requirements, with both a wide range of sizes and an extraordinary choice of flexible curtains.
Guarantees maximum reliability and safety.
·

COMPACT AND HI-TECH

·

FLEXIBLE CURTAIN

·

ANTIPANIC EMERGENCY REOPENING
Ditec Smart Plus
The perfect combination of compact and simple design is certainly the most attractive feature of Ditec Smart Plus.
Particular well-suited to indoor installation, also of a significant size,
it offers a wide variety of exclusive flexible curtains to satisfy any lighting or privacy requirements.
·

SIMPLE, COMPACT AND EYE-CATCHING

·

FLEXIBLE CURTAIN

·

EXCELLENT TECHNOLOGY
Ditec Sector Reset
When maximum operational efficiency is needed, together with the highest level of safety,
Ditec Sector Reset is the most reliable high performance door.
General very good seal level and highest operating speed, for energy saving and a better quality of the environment.
·

ENERGY SAVING

·

SAFETY

·

SELF-REINSERTING

·

PANIC-FREE EMERGENCY DEVICE
Ditec Smart Reset
Ditec Smart Reset offers something unique in its product class:
the special and innovative system that makes the door self-repairable.
With a simple and automatic opening and closing man oeuvre,
the curtain can be retrieved if it accidentally slips out of its housing:
after contact with an object, the door resets the first time it is opened.
·

SIMPLE, RELIABLE AND COMPACT

·

MAXIMUM LEVELS OF SAFETY

·

TIGHT-SEALING CURTAIN AVAILABLE IN MULTIPLE SOLUTIONS
Details
Place of Origin: ITALY
Product Condition: New
FOB Price:
Minimum Order Quantity:
Supply Ability:

Packaging & Delivery
Packaging Detail:
Delivery Detail: