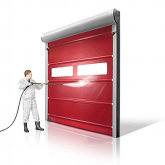 DITEC Entrematic Italy S.p.A.
Rapid door for the food sector - ALIMAX
Compact and versatile with state-of-the-art technology, Ditec Alimax is ideal when hygiene and practicality are the most important prerogatives.
In addition to applications in the food sector such as processing meat, fish, dairy and confectionery products, fruit and pasta, the new Ditec product can be used in warehouses, supermarkets and car washes.
Ditec Alimax reduces drafts, loss of heat, noise pollution and dust.
The fast opening (up to 1.5 m/s) and closing speeds and its compact size make it possible to optimise the flow of people, trolleys and vehicles.

It has a self-repairing system capable of automatically resetting the door after being bumped accidentally which might cause the curtain to slip out of the side tracks: a simple opening and closing manoeuvre is all that is needed, automatically.
The self-repairing system and the innovative safety rib keep the curtain and merchandise intact during transit, cancelling down times and the inconveniences due to the maintenance operations necessary if the curtain is damaged.
Ditec Alimax is available in two versions, Basic and Top.
Details
Place of Origin: ITALY
Product Condition: New
FOB Price:
Minimum Order Quantity: 1
Supply Ability:

Packaging & Delivery
Packaging Detail:
Delivery Detail: