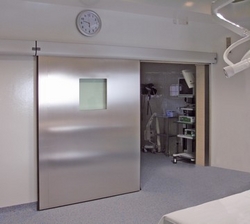 Hospital doors - Automations for the health industry



Ditec offers a wide range of automations for civil, industrial and commercial buildings without forgetting the special requirements of the health industry by providing:
sliding, curved or revolving entrance
hospital doors for operating theatres
hospital swing or sliding doors designed with people with reduced mobility in mind
automations for swing doors
hospital swing fire proof doors with WEL F automation
rapid flexible roll-up doors for A&E driveways
automatic sectional overhead doors for garages and warehouses
automations for gates and driveways
automatic barriers for parking areas or for closing landing pads for medical helicopters.
Ditec automations and hospital doors are safe, reliable and certified.
Ditec automations are practical and fast, even when first installed and when replaced.
And, above all, Ditec offering is truly comprehensive: a single contact for the supply of all required automations, a single contact for servicing and maintenance.
The obvious savings in terms of time and money ensure ease of control.

DITEC technology and safety
Availability of a wide range of control, monitoring and safety accessories
Supplying a smart, sturdy and reliable door is not enough.
The door must be equipped with a suitable range of practical and safe control accessories for all types of applications. Ditec long experience in the automatic entrance industry allow us to offer a set of top quality pushbuttons, remote controls, radio controls, magnetic loops, selector switches, radars based on different technologies, photocells.

Guaranteed safety
Ditec designs and manufactures installations and equipment compliant with the strictest international standards.
The certificates obtained ensure maximum safety level when the hospital door is used responsibly.
Details
Place of Origin: Italy
Product Condition: New
FOB Price:
Minimum Order Quantity:
Supply Ability:

Packaging & Delivery
Packaging Detail:
Delivery Detail: